Uhh so this whole thing got a bit long, and I thought about breaking it up into parts, but I just can't be bothered to make two different posts and tweet it multiple times, so just use the table of contents above to jump to what's interesting/relevant for you. The 3 sections are more or less standalone. Either that, or get a refill of whatever you're drinking and buckle up.
---
At the risk of trying to replicate my own success (but also to revive this blog), I will attempt to summarize some of my own takeaways after attending Cosyne 2022. You should by no means read this as an "objective" survey of the topics and trends at the conference, but rather views through a very filtered lens, partly because I just didn't go to as many of the talks (lol), so the coverage will not be anywhere close to being complete (is that even theoretically possible?). This is not just a product of me skipping talks, though. I'll try to convince you later that this was (at least in part) by design. But also, in the 3 years since Cosyne 2019, a lot of things have changed. While the scientific community is still struggling to claw back towards some kind of in-person normalcy, the upside is that most of the conference material exists online in one form or another, even the poster. More importantly, they exist in a systematically-curated and accessible form, in no small part thanks to efforts from the organizers, but also to community initiatives (like World Wide Neuro) and crazy individual efforts, so I don't feel so compelled to do that.
The biggest difference between 2019 and 2022, though, is that I'm 3 years older, having existed as a fly on the Cosyne auditorium wall for 3 years longer, and somehow finding myself to be partially integrated into this community. Actually, the most interesting thing I took away this year was in fact this particular piece of "meta-perspective", and it manifests in several concrete ways:
First, my view of the science that was presented at the conference is now less of a point observation, but one of a noisy trajectory or gradient. This shows up implicitly in the reviewer biases in which abstracts were accepted (in terms of what's "in" and "out"), which is also something the organizers needed to be aware of in constructing the conference program, which they briefly talked about in the opening remarks. The exercise of revisiting and writing up my notes really helped me consolidate what I took away from the main conference, and I will raise the disclaimer again that this in no way represents a "true" reflection of the conference themes, but my filtered version, so check out a few of my personal favorite themes in Section I.
Second, after 7 years of going to conferences, it finally occurred to me in Lisbon that I don't (explicitly) know how to conference. There are a lot of conventional wisdoms floating around about how to do conferences, and sometimes specific instructions for specific conferences, most of which about how to prioritize watching talks vs. going to posters vs. socializing. A lot of that is helpful, but I think it dawned on me that nobody really ever gave me systematic instructions on how to think about this, and that probably most people didn't get this as a part of how-to-science manual either. In Section II, I will continue to not give instructions, because there is no one-size-fit-all advice: actually it's different for different people, at different conferences, and most importantly, at different stages of career. At the same time, it seems to be a shared experience that people often have the feeling that conferences are overwhelming, exhausting, and guilt-inducing. I will write a bit about this realization, and make some meta-suggestions for how to conference—in particular, setting goals that are appropriate for your interests, career stage, and personality.
Finally, beyond passively participating in the conference program, I had the good fortune to actively shape a small part of it by co-organizing a workshop with Roxana Zeraati on neuronal timescales, along with a line-up of fantastic speakers (and cool people). This was obviously a stressful and intense experience, especially on the day of, but it was also exhilarating and insanely productive scientifically. Not only that, I felt like I was able to connect with the people there—as human beings—in a much deeper way than I was able to while just chatting at a poster, or casually meeting up as a part of socializing at the conference (especially being a relatively introverted person). In Section III, I will give a (not so) brief report of the discussions we had on "Mechanisms, functions, and methods for diversity of neuronal and network timescales", as well as some reflections about my experience as a workshop participant and co-organizer.
---
---
Section I. Highlights from Main Conference
I took notes for some talks and posters. They're not very good notes. To be honest I'm not even 100% confident I left with the correct takeaways, I did go back to check some parts of the talks to consolidate when possible, but you know what they say: the best way to learn the correct thing on the internet is to write it wrong (so please feel free to correct me if I misrepresented something).
Cosyne is no SfN, but the volume and breadth of cool works is still incredibly high—bordering overwhelming—and everything looks interesting and at least tangentially relevant to the broader theme of neural dynamics and computations (at Cosyne? wow dude who would've thought), so it's quite hard to pick which talks and posters to not go to. In the end, I basically give up and attended them when there was nothing else I wanted to do more. Afterwards, I looked through what interested me the most based on which of the talks I happened to be at that inspired the most thoughts, and they mostly fell into the following (unsurprising) categories (though I had to do some shoe-horning for some).
(Links typically point to recordings of that talk or the online version of the poster, when I could find them, otherwise poster numbers are in brackets)
---
I love "weird" stuff
Hands down, what I enjoyed the most are talks that are quite different from the "classical" Cosyne stuff, and I'm very grateful that the organizers decided to include a broader set of topics for the talks. Nothing against PCAs & ANNs, it's just that the bandwidth (i.e., new information per talk) is much higher for talks on weird stuff I've never thought about before. I guess I enjoy the feeling of hearing about ideas that could fundamentally change how I think about something, or just ideas that are so completely unfamiliar to me that it triggers a novelty reward. Of these, I want to highlight 2 talks and a poster:
---
Neural Manifolds Plus (TM)
What's a Cosyne blog post without some neural manifolds? Dimensionality reduction remains the workhorse of computational neuroscience, not only in neural data, but now also in high-dimensional behavioral tracking data. I think it's fascinating that there is now essentially an entire subfield that not only uses dimensionality reduction methods, but works towards building a theoretical framework to explain these results. It feels a bit circular if you assume PCA came first, but if I look back beyond the last 5-10 years, it's clear that latent variable models of neural population dynamics, as a theoretical construct, have always been a main topic for the community of people at Cosyne. It's just that it used to be the case that both the development and application of these methods—I'm thinking GPFA, (Poisson) LDS, etc.—were reserved for the specialists and the computational collaborators, but now many more people at least have the opportunity to apply PCA or UMAP out the box from Anaconda. In any case, it's basically impossible to cover all the works on this topic in depth without a dedicated blog post (like Patrick Mineault's), so I simply have a couple of examples that I thought were interesting, either on the method front, or using it in some way to append existing theoretical understanding of computations in the brain.
---
Unstructured behavior
You really can't understand the brain without trying to understand the behavioral demands animals face, so I'm pretty happy that Cosyne continues to move in a direction that includes more behavioral work, especially unstructured behavior. Similar to what I said about neural data above, you can learn some pretty interesting continuous and discrete dynamics when looking at the behavioral data alone, and it's even more cool when they are linked to low-dimensional representations in neural data. In many of these algorithms, the heavy-lifting is done by nonlinear transformations and embeddings, i.e., deep neural network, instead of PCA. You might sacrifice some interpretability, but the nice thing about behavioral data is that you can always look at the learned sequences or motifs and make sense of it just by looking at or listening to the data.
---
Bringing biological realism into models of computation
I don't know if this is going to be a "trend" at Cosyne, but I think injecting biological realism into models of neural computation should be a hot topic moving forward, even if challenging. We have lots of great models of neural computation in deep neural networks (DNN), but as great as they are in reproducing performance on visual and other tasks (recent Twitter debates notwithstanding), they don't possess much biological realism aside from the rough preservation of anatomical hierarchy (e.g., through the ventral stream)…and the "neural network" in their name. Yes, I know there was a whole BrainScore workshop on representational similarities between DNNs and the brain, but that's more about outcomes of models, not really introducing more structural elements into the model a priori, or biological inductive biases, if you want to call it that. And that's not to say those works are not interesting or valuable, it's certainly puzzling why some architectures can produce real neuron-like activity. But coming back to my point here, I personally find it important to also ask how including biological realism (e.g., local connectivity constraints, cell-type specialization, excitation and inhibition, etc.) can not only alter task performance, but more so, how these features unlock and/or constrain the types of computations a network can perform and how.
---
Humans, oscillations, and mechanistic modeling
I complain about the lack of representation on oscillations and humans at Cosyne all the time, so it's only right to give credit where credit is due. This year, I was genuinely surprised about the number of presentations on human electrophysiology and fMRI, as well as mechanistic modeling without task constraints, and there was even a whole session of talks on neural oscillations!!! Every time I passed by a poster that had something to do with one of these areas, I did just the tiniest fist pump-another win for the team. I ended up noting down quite a few interesting ones, but I don't want to describe them all in detail, so here's a lightning round to close up the scientific programme:
---
---
Section II. Meta Thoughts on Conferencing
This was my third Cosyne, and the first in my full year now as a postdoc. You'd think I know what's going on by now, and in some sense, I do: show up, get overwhelmed by the firehose of scientific content (especially the midnight posters man, damn), try to go out and socialize as much as possible, try to wake up before mid-day, rinse and repeat. Like I mentioned, there are lots of conventional wisdoms that get passed down about how to do conferences, ranging from "don't go to the talks, posters are the only place where you get to engage" to "conferences are about drinking and meeting people". Most of these wisdoms are conditionally true, meaning that they are true if you, the attendee, satisfy some criteria. These criteria vary depending on your career stage and goals, your personal interest, your personality, and more. Imagine telling a first year PhD student without a concrete project that "conferences are for networking", that would be a bit bizarre—even if you made lots of good contacts, what would you do with them? Even though I would certainly not do this now, I had some great times as a PhD student going to literally every event on the program at SfN and Cosyne and then just going to bed at a reasonable time, but that would certainly not suit my career stage now (and also I just don't enjoy it).
Maybe I'm the only idiot with this problem, and it boils down to not knowing myself well enough, but I feel like whenever there is a schedule and a mob involved, I just default to following the schedule and the mob, and the thing about conferences is that the schedule runs from 8am to 8pm (or midnight…), and some subset of the mob is drinking or doing other fun stuff from noon to 4am. It's literally impossible to do it all, and even if you somehow managed, your mental and physical health are probably rapidly deteriorating. I know a handful of people who somehow have the energy to drink till 4am and show up to SfN morning posters at 8am, and I tip my hat to them, but I'm not that guy. I actually used to get sick after every conference trip, because the immune system probably quit by the time I get to the airport, after 5 days of intense mental and physical exhaustion. But if I didn't do it all, I always felt bad about not taking full advantage of this scientific opportunity, and simultaneously experiencing fomo while everybody skipped the afternoon and explored the conference city. It's lose-lose-lose. So yeah, in some sense, I've been around long enough to get what's going on now, and I survived the years of passively getting pulled into various currents and then feeling bad that I didn't get pulled into a different current, I just don't really enjoy it anymore.
If you are one of these people that know exactly what you want to get out of a conference and don't care about anything else on the schedule or who's doing what, then stop reading now, because it's going to be obvious. And just to be clear, I don't think I'm offering any groundbreaking insight here, just hindsight common sense. In fact, I'm not even offering much insight about what to do at a conference, all I'm saying is that, if you're some kind of passive completionist like me, like one of these people that would go through every branch in those choose-your-own-adventure books, this entirely overwhelming endeavour could be a much better experience when you approach it from a different perspective, and the key is realizing that, like many aspects of life, you simply cannot do it all, and in order to not exhaust yourself and feel like a failure, you have to adjust your expectations and set priorities.
On the flight to Lisbon, I miraculously had the lucidity to realize that I'm not a PhD student anymore (it's like waking up from one of those nightmares about missing an exam), and that maybe I should approach this thing differently? Then I quickly realized, I don't know how to approach it differently because I hadn't been approaching conferences with an intention at all. So I quickly jotted down some goals / priorities. My number 1 priority was to enjoy my time there, which meant giving myself the permission to take a timeout anytime I needed, including from other people, and try to maintain at least some of my daily routines at home, like meditating, stretching, and short workouts everyday. I managed to do this on about half the days, and I certainly didn't enjoy every single day of the conference, but overall, I am way happier about the fact that I didn't completely get wrecked by the 5 days and managed to keep some semblance of (and also took advantage of some local and conference hotel amenities…). Other than that, I had some "conference science" goals, like learning 3 cool / unexpected things everyday, as well as something directly relevant to my projects. The want for the latter is obvious, but the former is what I actually really enjoy about big conferences, i.e., learning about stuff that I would otherwise never seek out. Section I of the blog post is the result of such attempts. I had roughly similar goals for "networking", but with the addition of meeting some people that I really get along with but not necessarily have any overlaps scientifically, aka anti-"networking". I won't go through all of them, but you get the gist. If I was a starting PhD student, I would probably prioritize seeing as much stuff as possible just to get maximum inspiration about what's going on in the field. As a postdoc, you have to balance that with optimizing for future opportunities, both in and outside of academia. I'd imagine as an established PI that don't need too many new directions or opportunities for collaborations, you'd just want to catch up with people that you don't get to see often, and maybe talk to some journal editors. I was pretty lucky that my poster got rejected and I only had to give a very short intro for the workshop, otherwise all of this is moot because I'd probably be skipping everything to prepare my poster last minute.
Anyway, the point is just that it's important to balance science, socializing, and rest / self-care, and this is definitely not in the "Science for Dummies" manual. All three are important and can come in different forms, and one naturally wants to prioritize the first two, being at a conference and the first in-person one in ages, but it's really important for myself to not burn out and just be cranky all the time. At the same time, the fomo is real: it's hard to say no to science or partying when I just need some alone time, but it's important to distinguish fomo from "I actually really want to be there". With some explicitly defined priorities, it turned the same objective experiences from being guilt-inducing stressors to feeling like I'm actually accomplishing stuff on my checklist. Wow I just rediscovered the glass-half-full parabole. At this point, I'm still trying to figure out a mode that works for me. It helped a lot to have defined some concrete goals at the beginning, I didn't meet all of them, but I made an effort, and it shaped how I consciously approached the thing.
To close, I'm gonna stream of consciousness a bit, and also talk about how strange of a social custom conferences are. Thousands of people show up at the same place, and for the next 5 days or so, everything within this bubble is all that matters. This is obviously a lot of fun and scientifically important, but sooner or later I get this inescapable feeling that I don't care about much of this stuff, and none of it matters anyway, especially when you zoom out to a larger context of global events, like the ongoing pandemic and a full-on invasion in Ukraine, in addition to the mundane daily things that we deal with in our regular daily lives. I don't mean to be disparaging to people who can just focus on the science at the conference, in fact, I'm envious, because I came all this way here and there are so many people and learning opportunities around me, why not enjoy it for what it is? But it was also really great to then talk to people who felt very similarly, and we can have a laugh about the quiet absurdity of this whole thing. Maybe I'm not super commited to my science, or science in general, but I feel like when I meet people, I almost never want to talk about science as the first thing. I don't know why, and it's really weird because, obviously, it's a contextually relevant conversation starter. It's not that I never enjoy talking to people about science, not at all. But I guess it's a lot easier when I already know them a bit as people.
To push this even more, I think a key objective at conferences is not necessarily to find relevant science, especially in an age where everything is online. In fact, there's too much stuff online and too little time to consume it all. All the talks are streamed, and most posters are online and curated, with preprints to boot. I think the key is to meet people you enjoy spending time with, who are on the same wavelength and with whom you might then have fun working or talking shop. For me, this often manifests as quiet real talks in a loud place, around some beers, but it's different for different people—figure out what you enjoy. I also had a great time surfing (aka getting completely bulldozed in a storm) with some strangers, and then got a nice lunch and chat afterwards about completely random life stuff. Of course, as a dude with no real life responsibilities that enjoys drinking beer and getting turnt, I'm pretty lucky that a lot of other scientists also like doing that, so "networking" sometimes happen spontaneously when you end up completely shitfaced at a latenight soup restaurant. As someone who doesn't enjoy that, you'd probably have to work a bit harder, but a nice lunch and stroll is always possible, especially if you can open up and connect without being lubed by alcohol. I thought the conference app where people self-organized events like climbing, birdwatching, and surfing was a great addition to make the casual networking a bit more equitable.
And with that, onto neuronal timescales!
---
---
Section III. Workshop Report: Mechanisms, functions, and methods for diversity of neuronal and network timescales
This whole workshop-planning thing started quite spontaneously: I saw the call on Twitter maybe a week before the deadline, retweeted into the void and tagged Roxana to see if she would be willing to do this crazy thing together, and 4 months later, we're in Cascais, sitting at the front of the meeting room as co-organizers in front of some dope speakers.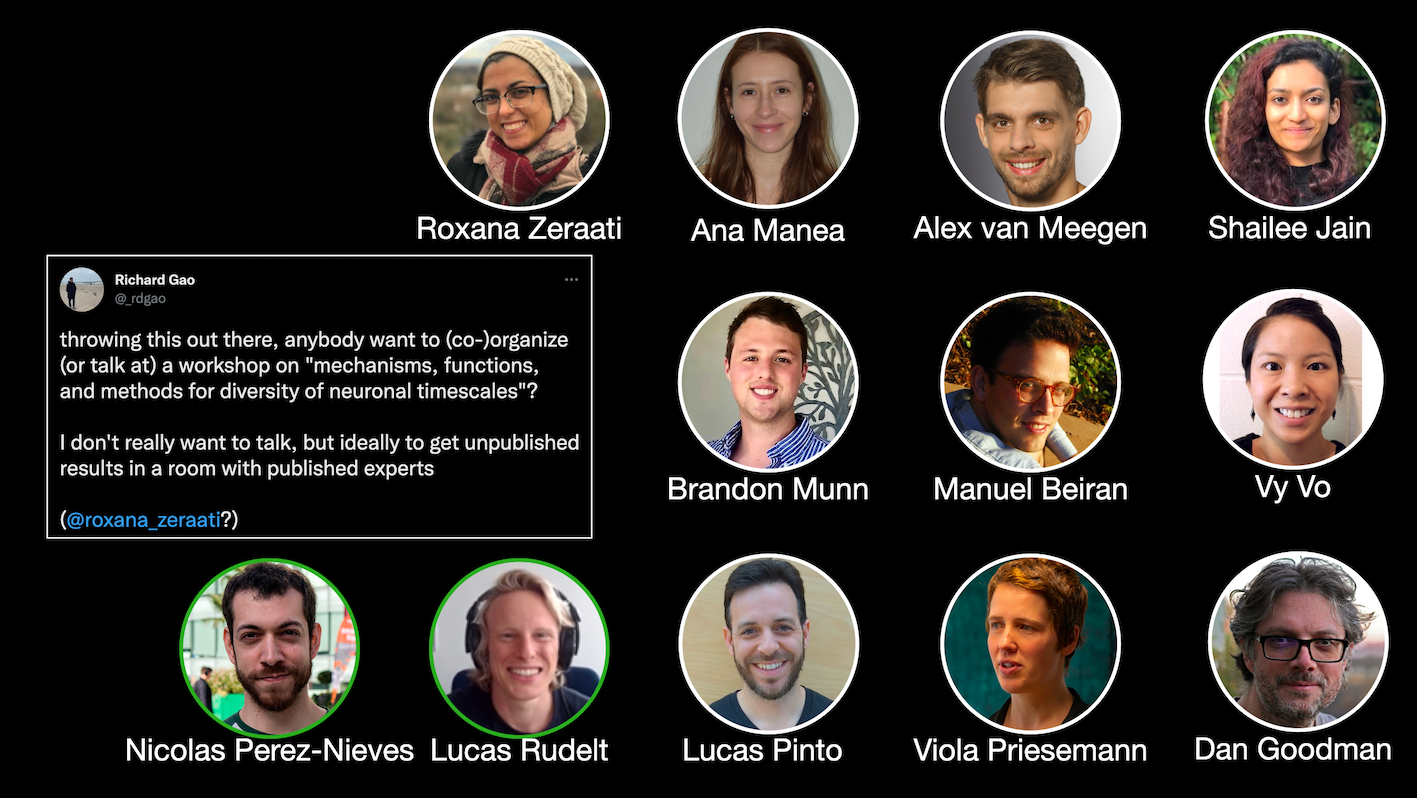 Note: this slide was from the introduction I gave, updated with our two heroic speakers that subbed in on the day of, circled in green.
I never imagined myself organizing a workshop, much less at Cosyne. Nevermind the imposter syndrome, this just feels so…grown up? Luckily, the workshop organization wasn't too much work after we had written up the proposal, especially with several of the speakers volunteering themselves after seeing the tweet. I don't know if this makes the selection process more equitable, but it certainly made our lives easier. Nevertheless, we filled the rest of the roster while trying to optimize for diversity in a few different aspects, including gender and career stage, as well as to cover the huge breadth of topics that now make up the "field" of neural timescales.
And holy shit it's a big wide field.
To provide a bit of context, here was our thought process while deciding on the topics, which became the workshop title:

You can probably write a whole book, or at least a 10-page review paper, to cover all the works that touch on the above in the last 10 years alone (see here and here for very relevant discussions). In the workshop, we got a chance to see some of the newest works in the last couple of years. I'm not gonna be modest about it: it was the best workshop I went to that day (but also probably in general). Not only did our speakers cover the incredibly broad spectrum of topics relating to timescales, there were such rich and unexpected intersections between works that it really felt to me like a coherent and self-organizing emergent entity. It'll be hard to not completely butcher their findings (so feel free to correct), but in the interest of space, I will just briefly summarize the key points from each talk below, as well as some of the discussions and takeaways points we had.
Note that I mostly keep to third person throughout to avoid switching back and forth between the speaker and their team, just for convenience, but in all cases it was acknowledged just how much of a team effort it really was, from lab tech, research assistants, all the way up to the PI.
---
Summary of talks
By this point, I was pretty thankful that it's lunch time. If you're counting, in these first 5 talks, we've had 5 different methods for computing neural timescales and even more model organisms. We also saw that timescales not only vary across the cortical hierarchy in a "static" way, but change across layers and over time (whose rate of change can also change), are related to different potential mechanisms (from connectivity to variation in thalamic projection) and cognitive processes (from decision-making to attention), and, just for fun, could potentially scale in a scalefree manner in the goldilock zone of quasi-critical dynamics—and this is just a tiny summary of the data we've seen so far. Good thing we got a nice lunch break together and a quick stroll on the beach, which might have been my favorite part of the workshop (more on this later). But back to the science, and in the afternoon session, we were treated with 4 talks with 4 entirely different kinds of computational models, each of which were used to study similar questions of heterogeneity, function, and mechanisms.
---
A lot of questions moving forward
I think my brain was properly scrambled, or rather, has exploded and smeared the workshop meeting room after that whole day of talks (and I had said about as much in our final discussion). It's the feeling of suddenly experiencing so many new things that one has a tough time keeping track of any single discussion, let alone how they intersect with one another. Fortunately, it seemed like I was not the only one, and people mostly shared the sentiment that this was a good thing: that the talks and discussions at the workshop generated so many new leads and potentially new perspectives that it's hard to consolidate them into a coherent sequence of thoughts. In the two weeks following, I was able to take some time to digest these new ideas, and going over my notes for all the talks (and their associated papers) for this blog post really helped in picking up the pieces (of my brain) after the dust settled, and I find them falling into the same themes we've set out in the beginning. I hereby present you the pieces of my brain, which, of course, are heavily inspired by the workshop speakers and attendees, and in particular recent conversations with Matteo Saponati and Alana Darcher:
---
Some reflections as a participant and co-organizer
Alright, I think I'm just throwing out wild thoughts at this point, and I've covered most of the scientific points I wanted to cover. If you have thoughts on any of these issues, I would be very happy to hear about them. I just want to end this blog post with some final thoughts about the workshop experience.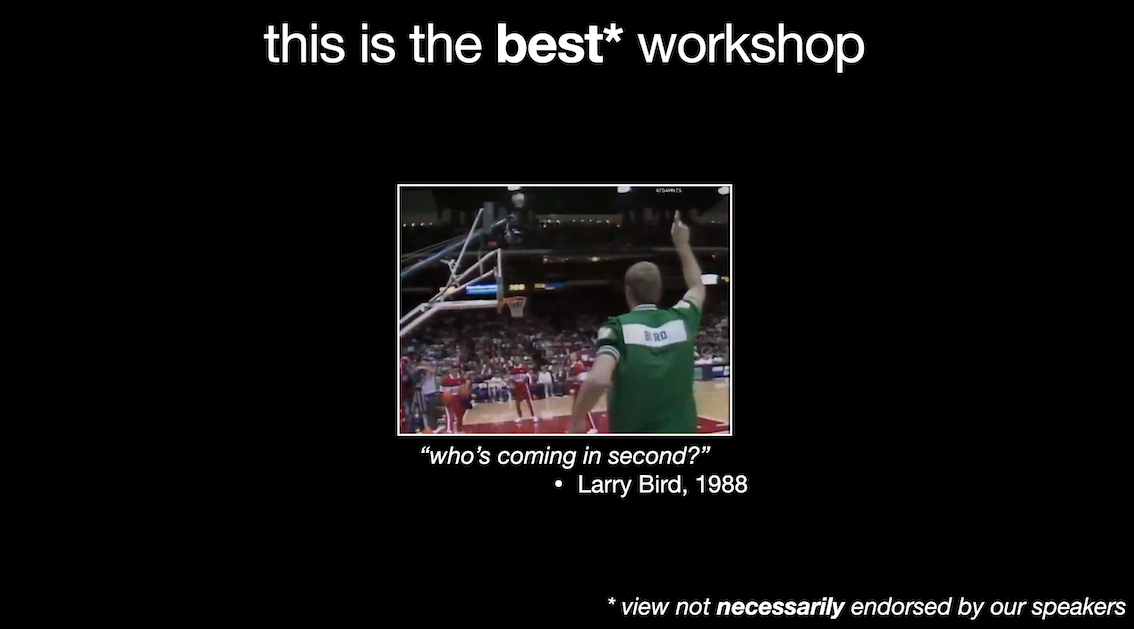 Hands down, our workshop was the best part of Cosyne for me. It kinda started out as a joke, but I truly believed it by the end. It's not that the main conference experience was bad by any means, it was just…looser. The talks were interesting, and so were the interactions at the posters, but there wasn't a narrow thematic constraint. This is obviously by design, and in some sense I'm stating the obvious: broadly interesting conference is broad. Wow, much insight dude.
Yes, it is obvious, and I would not be saying this if not for the fact that the workshops, as a whole, were equally diverse in topics, and one does not have to sit in the same room the entire day. In fact, in my previous years at the Cosyne workshops, I've always hopped from one room to another constantly trying to see talks that were maximally overlapping with my interest, or was the hot topic du jour. Obviously, I couldn't do that this year as a co-organizer sitting in the front, but I think it actually worked out for the better. Perhaps this is also obvious, but I think the workshops is truly a scenario where the whole is more than the sum of its parts. When you see individual talks, you hear about the specifics of the experimental design or model implementation, and some background information to motivate the work. When you see a whole set of talks on the same topic, even if some of those talks lie squarely outside your domain of interest and expertise, you still get to see much more clearly the things that were in common, i.e., the shared motivation and context, the things that are possible, as well as what's not talked about, i.e., gaps in thinking or even opportunities for future research. Clearly, the panel of speakers did not include everyone in the world working on timescales. But if your sample contains 10 people that come from vastly different perspectives, and 8 of them mention the same stuff or acknowledge the same issues, or, maybe are even puzzled by the same observations and questions, then there's something interesting going on. Furthermore, the fact that all the talks are on the same day makes it just much more likely that interesting stuff will get into your head by osmosis (at least that was my experience). I would say that attending the entirety of a workshop is the most efficient way to get familiarized with a subfield or topic as a novice, except that wouldn't even be true: I think even "experts"—actually, especially experts—would benefit greatly from seeing a familiar issue from a different perspective. I definitely don't consider myself an expert, but I learned something new from basically every talk, and I don't just mean a piece of scientific finding, but more so a new way of thinking about things, timescales and beyond. I suppose this could partially be due to our explicit intention in sampling a diverse range of perspectives when selecting the speakers, but my guess is that even if you sat through 2 days of people going through competitive models in the BrainScore workshop (no shade), you'd still learn something about science on the meta-level.
On top of that, some things I had to do as a co-organizer ended up really adding to the experience. Beforehand, Brad gave me some really helpful advice that, as an organizer, I should take notes, always prepare a few questions for the speaker in case nobody else asks questions, and to otherwise appear engaged. These are all sensible and obvious things to do, and I probably would have tried to do them anyway if for nothing other than the optics, but to no one's surprise, appearing engaged (and not being on my phone) actually makes you engaged, and when you're engaged, you take away a lot more. In addition, when you then try to prepare questions that are not completely superficial, it requires actively listening to the talk and thinking beyond what the speakers have presented. Obviously, nobody prevents you from doing this even if you're not an organizer, but this is extremely difficult to sustain throughout the whole day, and if I didn't have to, I probably wouldn't have, just because it's quite easy to slip into "well let me just check Twitter for a second". Actually, as an audience, I feel like sometimes you don't want to be that person that has a question at the end of every single talk, which is exactly who you want to be as the organizer. Another thing that helped was that Roxana and I had to come up with good questions or prompts for the two discussion periods, and that required another round of active thinking and bouncing ideas off of each other, as well as generally trying to tie everything together. Thankfully, this brain expenditure happened against the backdrop of beach and sun.
One last thing I want to mention, and probably the most important: being a part of the same workshop for the entire day gives you a chance to interact with the speakers and other participant in a way that's more natural than asking a question at the end of a talk, at least to me. I'm probably not in the minority when I say that I feel very awkward approaching somebody I don't know to have a conversation at a conference, even more so when it's not about the immediate scientific subject at hand. At the same time, the conversations I enjoyed the most were not really about the talk we just heard, or even timescales, but about life, family, career in academia, the war in Ukraine, film, surf, or random tidbits of culture, be it about Canada, California, or Tubingen. For me, there's really just no good way to transition from "I have a follow up question about something you mentioned in your talk" to, well, I don't know what, but something unrelated and spontaneous. When you hop in and out of workshops, you're one of many faces that somebody sees. When you stay at a workshop and repeatedly ask questions or engage in the discussion, you become somebody I know. I realize much of this is due to the fact that I was in the privileged position of a co-organizer, it was within our roles to mingle with speakers, as well as get everyone to meet and talk to each other. Because of this, we had the opportunity to ask everyone to have lunch together, so we could at least get to know each other a bit outside of the "classroom", so to say. I really enjoyed this casual interaction, as well as dinner and drinks, and follow-up conversations I had with them afterwards. I think we could've done a better job in involving the non-speaker participants (who seemed clearly engaged and interested) in the more casual follow-up interactions, like going out for dinner, so I think I will be mindful of that if I was in such a position again, both for professional networking and just connecting potentially like-minded people.
Anyway, I obviously realize that not everyone will have an opportunity to be accepted as a workshop organizer, and I don't want to necessarily prescribe this approach for anyone. But I think from now on, as a participant, I will try to pick a single workshop for the entire day, and just stay there and learn as much as possible.
---
---
Alright, that's all for this extremely long report that nobody asked for. Until next time!
---